Who's tres chic? December edition
Sup guys! If you are slightly confused by the title, 'tres chic' is french for 'very fashionable'. This post is basically like a "who wears it best" voting type game. For the first edition, Ashtyn and Kate are both modeling the Holiday Penguin pj's from last year's selection.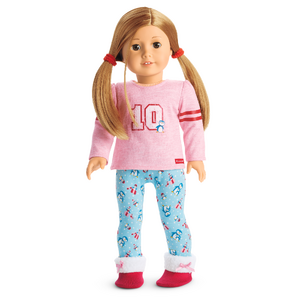 Btw, this pic isn't mine
So first up we have.... Kate!
Then Ashtyn...
I honestly can't decide which doll is more tres chic! I love them both, but I'm biased. :) To vote, all you have to do is let me know in the comments who you think looks better in the outfit. I can't wait to hear what you think!!! I will post who won next month when I do the January edition.
~justAG
P.s. 15 days till Christmas!! 15!!!